Horses For Sale
Stillizato – "Vato"
Vato is a 2006 Registered Oldenburg Gelding with looks for the Hunters, movements for Dressage, and Scope for the Jumpers. Still eligible for the greens but has show mileage! Just came back from HITS Culpeper, where he placed in every class! Amateur friendly, but nice enough for a Pro to show or compete. Auto everything, easy to handle and BAREFOOT! Don't miss out on an opportunity to own such a nice horse! Only selling because owner is away at college. Asking $25,000 OBO.
SOLD!
Video: Watch Vato in Action HERE.
Admiral – Available for Lease or Purchase
Queens Admiral is a 2005 TB Gelding, 17+ hand, jumper. Brave to the fences, Easy to find a spot on and will ALWAYS get you to the other side – "Point and shoot" type of horse.  His is a proven Child/Adult jumper but is still easy enough to pack around a .70 course for the riders who just need to step into the rated show ring, but would also be a fun show horse for a Professional looking to be competitive in the higher level classes.  He has tons of Rated and Schooling Show experience and has also shown in venues such as, Devon, The Ridge, St. Christopher's, HITS Culpeper, HITS Saugerties, etc. Easily schooled 4'6″ at home but is extremely competitive as a Child/Adult Jumper. Admiral has experience cross country schooling and would also be a great eventing horse too! Asking $30K to a wonderful home.
SOLD!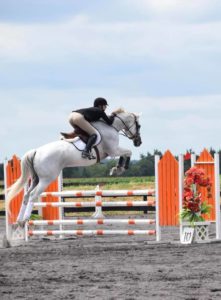 Lucy – Available for 1/2 Lease
Lucy is a 2006 Welsh Cross Pony Mare – AVAILABLE FOR 1/2 LEASE – $400/MONTH "Hunters, Jumpers, Equitation…You name it, she does it!"
"Lucy" is a 10 year old, 14 hands, Located in the Newtown, PA location. Large Chestnut Pony Mare with tons of chrome, Very flashy and great mover. Suitable for all levels, and loves her job! Nice smooth stride and can easily make it down the lines. Shown primarily as a hunter but could also dabble in the jumper ring. Schools 3ft+ at home, easily. Offers a lead change when asked, and big barrel so would be great for an adult as well. Loves jumping around our cross country course too! Tons of show miles on the local circuit but still eligible green. Used for IEA and IHSA Horse shows every year.
LEASED!
Videos:
See Lucy working on the flat HERE.
See Lucy jumping HERE.